Fusion3 F410 Professional Large Format 3D Printer - 355x355x315
SKU:

F3-F410

UPC:

Condition:

New

Availability:

Ships FREE anywhere in the continental USA - Use code SHIPITFREE at checkout
Description
F410 - The Professional 3D Printer For Your Demanding Application
Please Note: The Fusion3 F410 ships by freight only. Expedited shipping is not available.
Fusion3 3D printers are built to order, so expect a lead time of about a week from when order is placed.
The successor to the Fusion3 F400

Affordable for business & education - only $4,799

Includes free shipping anywhere in the continental US

Industry leading 2 year warranty

Build size: 355 x 355 x 315mm (13.9 x13.9 x 12.4 inches)
Fusion3's business & education customers have demanding applications that require a combination of precision, speed, and reliability. Many 3D printers can meet one or two of these requirements, but only Fusion3 delivers on all three, thanks to a unique technology and focus on throughput.
Download the full Fusion3 F410 brochure
Every F410 includes a copy of Simplify3D Creator ($149 value). Click here to see Fusion3's Simplify3D Certified Materials list.
THE FUSION3 F410 FEATURES
INTERCHANGABLE PRINT HEADS
With the F410, you have the choice between three interchangeable print heads. Select the perfect size for your application to achieve the best balance of speed and print quality. (.4mm included, .6mm and .8mm can be purchased separately)
.40mm - standard print time
.60mm - 32% reduction in print time
.80mm - 57% reduction in print time
IMPROVED PERFORMANCE & RELIABILITY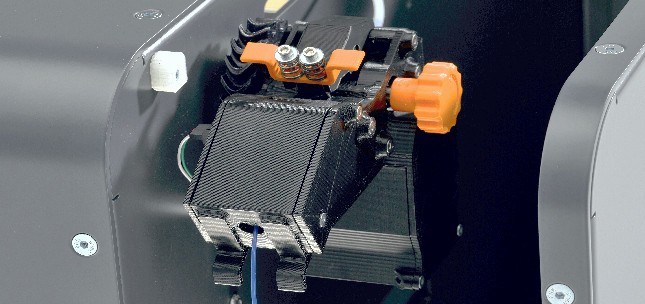 Fusion3's new 2.0 Extruder and updated 32-bit on-board controller provide even better print quality and near silent operation. The 2.0 Extruder's 'Filament Detection' feature allows customers to resume prints should they run out of filament or experience a print jam. The 'Filament Wipe' feature captures any dust or contamination on the surface of the filament before it enters the print system, reducing the chance of print failures due to clogging. The F410 also features a new conductive, automatic bed leveling system that ensures the correct first layer height for every print.
EASY TO OPERATE & MANAGE
Fusion3 also updated the touchscreen interface, providing intuitive controls for first-time users while maintaining advanced features that our professional customers require. The F410's onboard network interface allows customers to remotely manage their 3D printers through a secure, web- based interface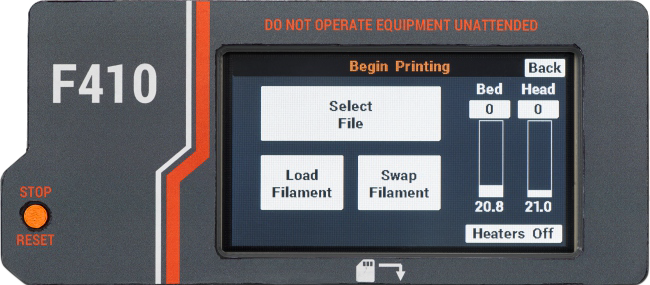 OPTIONAL HEAVY-DUTY ROLLING CART
The rolling cart helps you save valuable desk space and makes it easy to move your 3D printer. The cart mirrors the design of the F410 with all-metal, heavy-duty construction, a large storage area and pass-through ports for your power and network cables.
WARRANTY & SUPPORT
Fusion3 covers materials and workmanship with the longest standard warranty offered by any 3D printer manufacturer (as of 4/1/2018)
STANDARD WARRANTY: 2 Years, materials & workmanship (including printhead)
FREE LIFETIME PHONE & EMAIL TECHNICAL SUPPORT
Fusion3's expert, US-based, technical support team is available between 8 am and 8 pm US Eastern Time, Monday through Friday, to troubleshoot and assist in the repair of any technical issues that might arise.
REPLACEMENT PARTS AT COST
Fusion3's online store offers consumables, optional items and out-of-warranty parts for sale at cost to customers. Orders received by 3 pm ship out via UPS® Ground or International Air the same business day. Orders can be expedited upon request for an additional fee.
2.0 EXTRUDER (with filament monitoring)
The F410's completely redesigned extruder includes filament monitoring (pauses system if you run out of filament or if filament stops feeding), filament cleaning (prevents contaminants from entering the print system), and provides improved grip and enhanced performance with all materials.
PROPRIETARY MOTION CONTROL SYSTEM
The 'F-Type' platform combines high stiffness, low moving mass, and a unique Kevlar® cable system (instead of rubber belts which generate backlash and will wear/stretch over time). This enables the F410 to print faster and more accurately than other 3D printers in its class.
RIGID METAL ENCLOSURE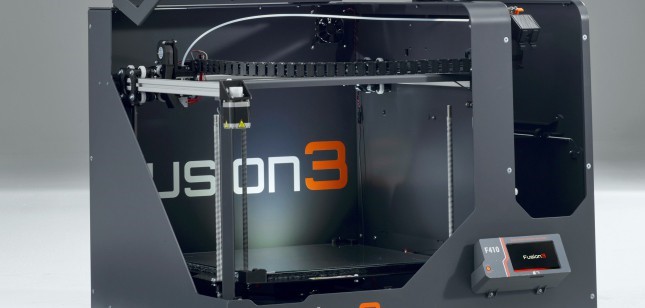 Similar to a unibody car, the F410's structurally rigid aluminum enclosure not only looks great but provides a stable platform, eliminating vibration and ensuring quality 3D prints.
LARGE ENCLOSED BUILD AREA
The F410's door, with large windows, protects users from contact with high-temperature surfaces and sensitive electronics while providing an engaging visual experience.
SAFETY & COMFORT
The fully-enclosed F410 protects users from contact with hot surfaces. Fusion3 offers an optional external air filter system which attaches to the F410's exhaust and captures potentially harmful emissions. Perfect for the office or classroom, the F410 even quieter than its predecessor.
BUILD LARGE PARTS QUICKLY
With a maximum build volume of 1.38 cubic feet (max build size of 355 x 355 x 315mm), the F410's large print bed enables fabrication of large parts, or large numbers of smaller parts, in one print job.
INTERCHANGEABLE PRINT HEADS
With the F410, you have the choice between three interchangeable print heads. Select the perfect size for your application to achieve the best balance of speed and print quality. (.4mm included, .6mm and .8mm purchased separately)

STABLE, HIGH-TEMPERATURE ENVIRONMENT
The F410's enclosed print area and multi-zone heated bed provide a stable 45oC environment, ensuring excellent print results with high-temperature, engineering-grade materials including Polycarbonate, ABS and Nylon.
WIDEST RANGE OF 3D PRINTABLE MATERIALS



Customers can print a variety of plastics including: PLA, ABS, ASA, Carbon Fiber, Flexible, Nylons, PET/PETG, Polycarbonate, and Nylon. Fusion3's certification process ensures that customers can print the widest range of materials, purchased from many quality manufacturers.
EVERY TYPE OF 3D PRINTABLE PLASTICS
Fusion3's 3D printers can print filament from all major families of 3D printable plastics, including standard and hybrid formulations of:
| | | |
| --- | --- | --- |
| PLA | Carbon Fiber Filled | Flexible (including TPU/TPE) |
| ABS | Fiberglass filled | Polyester |
| ASA | Nylon | Acrylic/PMMA |
| PETG | Polycarbonate | and More... |
TESTED & CERTIFIED TO ENSURE COMPATIBILITY & PERFORMANCE
3D printing sometimes seems more art than science. The F410 takes some of the guesswork out of producing excellent results by including features that make 3D printing easier, including auto bed leveling, powerful slicing software, and remote management.
AUTOMATIC, CONDUCTIVE BED LEVELING
A level print bed is key to printing well. The F410's bed level compensation technology checks and adjusts the bed height before every print.The conductive system is elegantly simple, using the print head instead of an external sensor and ensures excellent, repeatable results.
THE BEST SLICING SOFTWARE INCLUDED
Every F410 includes a copy of Simplify3D Creator ($149 value). This easy to use software is lightning fast and generates superior output of your models, for the selected material. Click here to see Fusion3's Certified Materials list.
REMOTELY MANAGE OVER YOUR NETWORK
Through a web browser and the F410's built-in ethernet connection, you can remotely control your 3D printer over your network, including the ability to upload files, monitor print progress and start/pause/stop. (wi-fi capable using 3rd party adapter)
INTUITIVE TOUCH SCREEN INTERFACE
The user interface on the F410's 4.7" full-color touchscreen makes printing and maintaining your F410 simple and easy while still giving you access to advanced controls when you need them.
F410 SPECIFICATIONS
PHYSICAL DIMENSIONS & WEIGHT
Dimensions (DxWxH): 724 x 775 x 648 mm (28.5 x 30.5 x 25.5 in)
Weight: 38.56 kg (85 lb)
PRINT SIZE & VOLUME
Max Print Size (LxWxH): 355 x 355 x 315 mm (14x14x12.4 in)
Max Build Volume: 1.38 cubic feet
PRINTING
Print Technology: Fused Filament Fabrication (FFF)
Max Print Speed: 250 mm/sec
Max Travel Speed: 500 mm/sec
Extruder / Feeder Type: Bowden drive / Geared feeder
ENCLOSURE & PRINT SURFACE
Ambient Operating Temperature: 7C - 29C (45F to 85F)
Print Surface: Heated glass with multizone heater
Maximum Bed Temp:140C
Bed Leveling: Automatic (via conductive sensors) & manual
MATERIALS
Diameter: 1.75 mm
Types: All major printable plastics (See certified materials list)
Max Spool Size: 3.5 kg / 12" diameter, 6" width
SOFTWARE
Processing Software: Simplify3D, Creator 4.
Operating Systems: Windows, Mac, Linux
File Types: .STL, .OBJ
ONBOARD CONTROLLER & STORAGE
Onboard Controller: 32-bit, 120mhz ARM-Based Controller
Storage: Onboard 4GB flash storage, SD Card Slot
ELECTRICAL
AC Input: 110V / 230V, 350W avg
Peak Power: 6A / 3A, 600W
| | | | |
| --- | --- | --- | --- |
| PRINT HEADS / PERFORMANCE | .4MM | .6MM | .8MM |
| Print Head: | E3D Volcano | E3D Volcano | E3D Volcano |
| Layer Height (Min - Max): | 20 - 300 microns | 100 - 400 microns | 200 - 500 microns |
| Min Feature Size: | .5 mm2 | .75 mm2 | 1.0 mm2 |
| Feature Tolerance: | +/- .003" per inch | +/- .0045" per inch | +/- .006" per inch |
| Print Nozzle: | .4 mm hardened steel | .6 mm hardened steel | .8 mm hardened steel |
| Maximum Melt Temperature: | 300oC | 300oC | 300oC |
AVAILABLE OPTIONS
Heavy-Duty Rolling Cart: $899 (free shipping in the continental US)
Print Head (any size): $175 (free shipping in the continental US)
Set, 3 Glass Print Beds: $30
Air Filter Assembly: $49
Replacement Filter Set: $30
* Free shipping limited to the continental USA. Alaska and Hawaii extra -- Please contact us for a shipping quote.
View All
Close
Warranty Information
2 Years, materials and workmanship (including printhead) Free technical support for life of 3D printer
View All
Close