Keene Village Plastics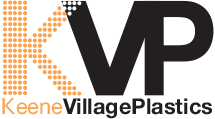 What we love about KVP
Keene Village Plastics (KVP) filaments are manufactured right here in Ohio. Using top quality raw materials and 3-Axis laser-controlled precision, KVP produces some of the highest quality filament in the industry, with very tight tolerances.They have amazing quality control: every spool is bar-coded and can be traced back to the exact date and line of manufacture. We had a chance to tour the factory and were amazed at the level of organization and commitment to quality. We are happy to be able to offer a selection of KVP filaments to our customers.

Currently we carry PAPC on spools and PETG, PC, PLA and Pro PLA in filament Koils (master spool refills).

Read more about the Filament Koil and download the STL file for your reusable spool here.