Description
Taulman3D Alloy 910 - Natural,
1.75mm 1kg
We love A910 at Partsbuilt 3D and we use it whenever we need really strong parts.
Taulman Alloy 910 is the combined effort of chemical companies, extrusion manufactures and Taulman3D to specifically develop a single material to meet as many high performance 3D Printing needs as possible.
With a combined tensile strength higher than the strongest co-polyesters, the durability of nylons, a shrinkage factor that rivals Taulman3D t-glase, a vast range of chemical resistance and a ~82c working range, you now have one solution easily printable at 250C-255c.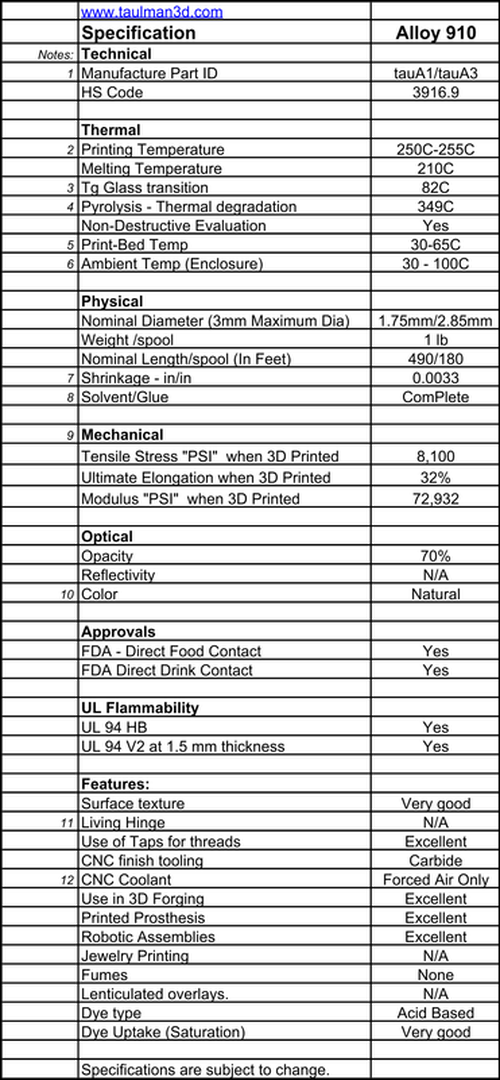 Taulman3D Alloy 910 (A910) Print Settings
These settings are provided by Taulman3d and are meant as a starting point to help find your optimal print settings. They should work for most 3D printers; however, you may need to experiment outside these ranges. If you find settings that work better with your printer, feel free to let us know and we will be happy to post them.

Nozzle Size: Any

Print Temp: 245-250c

Bed Temp: 45c

Fan Speed: Off

Print Speed: 60mm/s

Flow Rate: 100

Retraction: 1mm/.1mm nozzle or for a .5mm nozzle = 5mm

Print Surface: Most print surfaces with Nylon Adhesive

Note: Keep dry! Nylon can absorb moisture quickly. If prints are foggy or porous (pumice like), your filament needs dried.
View All
Close
Additional Information
| | |
| --- | --- |
| Diameter: | 1.75 mm |
| Weight: | 1 kg |
| Material: | Nylon |
| Feature: | Flexible |
| Color: | Natural |
| Category: | Filament |
View All
Close