Description
*Clearance item - No returns
Bondtech QR Universal Extruder for 1.75mm diameter filament
Mount not included. Download the .stl file here to print yours!
Righthand

Includes cable with quick-connectors (700mm, equipped with a 2510 connector)

Housing professionally printed in nylon with SLS technology

Integrated brass thread-bushings


High-torque geared stepper motor for high feeding force and high extrusion precision

Recommended motor current setting: 1.2A

E-steps setting: 476.5 steps/mm

Use metric sized PTFE tubing for best performance
The Bondtech QR universal extruder for 1.75 mm diameter filament gives you the market's highest performance, precision and reliability with its Dual Drive gear system.
This design makes it possible to change filament by activating the QuickRelease lever. The spring-loaded secondary drive gear adapts to filament variations and optimal pressure can be adjusted to match your preferences.
CNC-machined precision drive gears that are hardened to withstand wear from abrasive filaments.
Super sharp drive gear teeth grips the filament from both sides that gives very high feeding force to ensure uninterrupted material flow to avoid under extrusion. Filament grinding and slippage is now a thing of the past -- woohoo!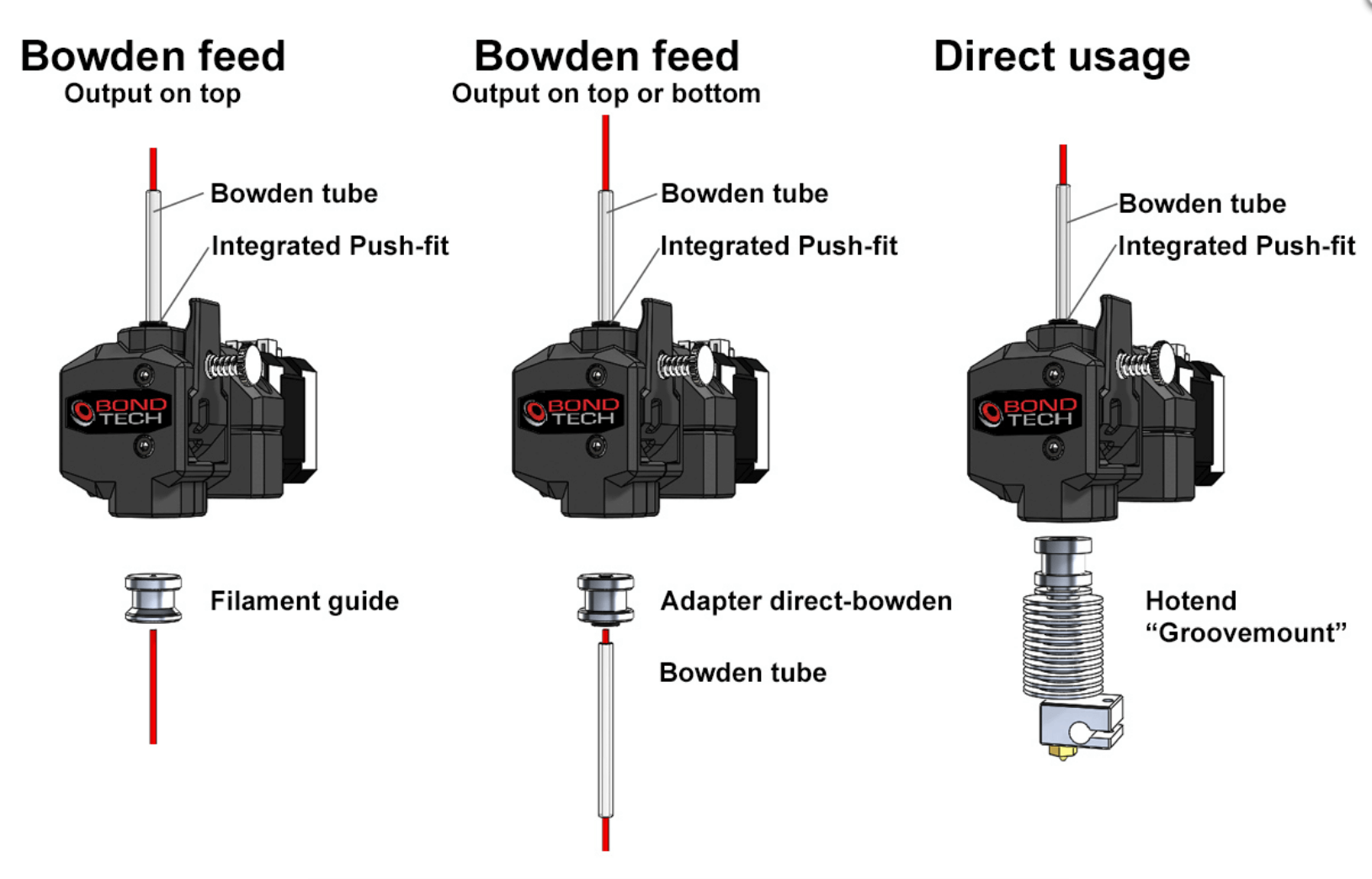 For the groove-mount connector on side B, you may purchase the following adapters:

Filament guide for a Bowden tube-style configuration where the filament entering from side B and fed into a Bowden tube connected at side A, like Ultimaker 2/original.
Direct to Bowden 1.75mm - adds a push-fit connector on side B for configurations where the extruder is in the middle of a Bowden Tube-style setup.
The extruder feeds material in both directions:
View All
Close
Additional Information
| | |
| --- | --- |
| Category: | Bondtech Extruders |
View All
Close